GalleryGeorge (formerly Atelier 5) will reopen in May 2019
in Gigondas, France and will feature new works
by artist Isobel George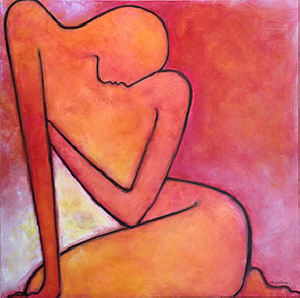 Drawing her subjects from life and from her imagination, Isobel George re-creates them as watercolour, oil, acrylic and mixed media paintings in a semi-abstract figurative style. In watercolour, she has developed a technique of working with the water, the pigment and the paper that produces the flow and spontaneity inherent in her work. She uses a very different approach when working with oils and acrylics, which tend to come from a contrary, unrelated corner of her mind. No drawing is involved – she launches straight in with the colour and allows the painting to develop a form and structure of its own.
A native of London, England, Isobel George divides her creative time between California and the south of France. Her work has been exhibited in both public and private collections in Europe, South America and the U.S.A.
GalleryGeorge, Rue Révérend Père Signoret,
84190 Gigondas, France
(+33) 06 32 51 04 03
The exhibit will be open to the public in May, 2019
(opening hours to be announced)
or by appointment: (+33) 06 32 51 04 03
Directions to the gallery:
From the the corner of the restaurant L'Oustalet in the main square
of Gigondas, follow the rue du Corps du Garde, past the wine bar
"Le Nez", and GalleryGeorge is approximately 50 yards further,
on the right-hand side of the rue Révérend Père Signoret.